Un jeune garçon de 10 ans aveugle et autiste interprète une chanson… Sa performance est exceptionnelle !
L'histoire de ce jeune garçon prénommé Christopher, âgé de 10 ans seulement, est tout simplement incroyable.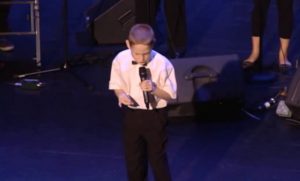 Il est aveugle et il est né prématurément parce que sa mère avait consommé de la drogue durant sa grossesse.
Après avoir passé 7 longs mois à l'hôpital, il a été placé dans une famille d'accueil, avant d'être adopté par son oncle et sa tante. Malheureusement, ses problèmes de santé ne se limitaient pas seulement à la cécité.
Effectivement, quelque temps plus tard, Christopher a reçu un diagnostic d'autisme. Ces deux handicaps très sévères ne l'ont toutefois pas empêché de développer ses talents vocaux et de foncer dans la vie.
D'ailleurs, dans cette vidéo, vous le verrez lors d'un service religieux, et l'entendrez interpréter la chanson « Open The Eyes Of My Heart ». Vous constaterez que rien ne peut arrêter ce jeune homme qui chante merveilleusement bien. Il nous prouve aussi qu'il ne faut jamais abandonner, ni se laisser abattre par les obstacles qui se dressent sur notre route.

Aimez / Partagez cette superbe vidéo sur Facebook