Vous êtes-vous déjà demandé ce que faisaient les hôtels avec les savons et shampoings inutilisés ?
BON À SAVOIR ! La location d'une chambre d'hôtel inclut toujours des barres de savon et de petites bouteilles de shampoing.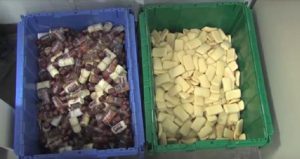 À moins de séjourner dans la même chambre pendant plusieurs semaines, vous n'utiliserez sûrement pas la barre de savon au complet, pas plus que vous ne viderez totalement la mini bouteille de shampoing.
Jusqu'à présent, vous avez sans doute pensé que les restes de savon et de shampoing étaient jetés aux ordures. Peut-être même ne vous êtes-vous jamais posé cette question.
Eh bien sachez que ces produits sont récupérés par un organisme du nom de Clean the World. Celui-ci a créé un programme de recyclage pour aider les enfants et les familles défavorisés partout à travers le monde en améliorant leurs conditions d'hygiène.
En posant ce geste, Clean the World souhaite sauver un million de vies chaque année, en empêchant la propagation de maladies transmissibles par les mains.
Ainsi, les savons et shampoings sont envoyés dans une usine de traitement afin de les stériliser. Par la suite, ils sont distribués dans les pays les plus pauvres.

Aimez / Partagez cet article sur Facebook